Newman Association meets biweekly on Sundays at 3:00pm.
Austin Ablicki
Liturgical Coordinator
Austin is a junior majoring in biochemistry and minoring in French with aspirations to become a doctor. In his free time, he enjoys conducting research, playing hockey, and skiing.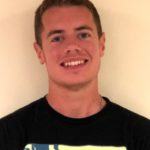 Patrick Bubel
Events Cordinator
Patrck is a Junior studying Mechanical Engineering here at BU. He is the oldest of 5 children from Hyde Park, NY- home of president FDR! "I think most of the conversation around faith and college life is 'how to survive without losing your faith' , which is something I disagree with. I know for me personally; the Newman House has helped my faith reach new limits and has helped others as well! That is my mission as Events Coordinator- to help students expand their faith during this exciting and fun time!"
Rosemary Cannarella
Secretary
Rosemary is a sophomore biology and chemistry major from Long Island, New York. While at home, her family attends a very welcoming family-oriented parish. She enjoys music, books, working with children, and the outdoors. Rosemary loves to research and is looking forward to going to medical school to become an immunologist.
John Cunningham
Treasurer
John Cunningham is the current Treasurer of the Newman House and has served previously on the Fundraising Committee. He is a junior majoring in accounting and pursuing his CPA. In his spare time, he enjoys playing/watching hockey, and of course, taking naps!! "The people involved with the Newman House are like a second family to me and I am excited to meet anyone that is interested in joining!!"
Alyssa Lat
Public Relations
Alyssa is currently a Junior majoring in Psychology. She served originally as a member of the recently formed Evangelization Committee during her Sophomore year and now serves as the Public Relations Chair. She is also a guitarist in the Newman House's Music Ministry. Her favorite song right now is New Balance by Jhene Aiko.
Olivia Maynard
Music Coordinator
Olivia has been the musical director of the Newman House Music Ministry since 2017. She is a Long Island native studying economics and history with a minor in music, and intent on pursuing a career in education. Olivia is part of the Binghamton's all-female acappella group and is a member of the university's choral program.
Beth Ann Meluni
President
Beth Ann is a senior, studying anthropology, and going on to nursing school once she graduates from Binghamton. She loves reading, coffee, and spending time in the beautiful and varied ministries of the Newman House.